Learn a little more about your new best friend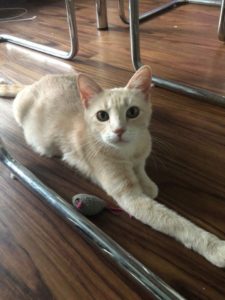 Are you looking for the perfect apartment-sized cat to watch movies with all quarantine-long? This sweet little girl may be your kitty soul mate!
This tiny blondie may come off as shy – she had some hard times on the streets, after all – but once she warms up to you she'll blossom into a sweet, silly, playful companion who just wants to love you!
Belle absolutely loves head and chin scratches, and will press her fuzzy little face into your hand when she's feeling supremely snuggly. Like any good Cat, though, she accepts love on her own terms. She's extremely well-behaved, and will never scratch your furniture; but this loyal kitty will happily nap on your comfy bed or sofa, staying close to her beloved human(s) while you work from home.
Princess Belle gets along okay with other cats, but she can be a little reserved and may prefer life as your one and only.