Learn a little more about your new best friend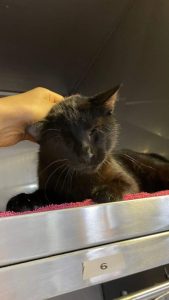 Meet Zara! She is the true definition of a globe-trotter and came to us all the way from Saudi Arabia! As a young kitten, she had an infection that left her both blind & deaf which unfortunately put her at the top of the euthanasia list at their local animal control. While we generally don't pull kitties from out of state – much less out of the country – Zara stole our hearts and, with a free ride to the US, we had to save her.
But don't feel sorry for this little ball of energy! She doesn't let her disabilities slow her down. She loves to play with catnip mice, is a HUGE fan of feather wands, and loves to cuddle up to or wrestle with her kitten buddies and stuffed animals.
Although she is blind and deaf, her other senses are particularly heightened! She quickly developed a mental map of her foster home and knows exactly how many steps it takes to make a perfectly planned graceful leap on and off of the futon! She will sit like a parrot on your shoulder nuzzling her little nose into your hair and ear. Her foster mom says that even though she can't hear them when they enter the room, she recognizes their scent and in less than a minute knows they're there and seeks them out for attention.
Understandably, Zara gets very stressed and anxious if she's completely alone in the house so she definitely needs to be in a home with a social kitty that will be her buddy and snuggle and play with her. She would love for it to be one of her current BFFs – 7 month old kittens Tyr and Leif! She's also great with children but they must be old enough to understand that they need to be a little more gentle and careful with a differently-abled kitty.