Learn a little more about your new best friend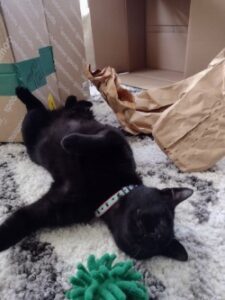 Meet Zara! She is the true definition of a globe-trotter coming to us all the way from Saudi Arabia! While we generally don't pull kitties from out of state – much less out of the country – Zara stole our hearts and, with a free ride to the US, we had to save her. Don't worry about a language barrier, though, as she is now fluent in English!
She loves her foster cat brothers but she can also be independent. She loves catnip mice, is a HUGE fan of feather wands, and loves to cuddle up to or wrestle with her kitten buddies and stuffed animals. Zara is often found lounging like a princess on the top of her cat tree, or by a sunny window, with the sun warming her luscious black fur!
She loves her foster mom, too, and often finds her and demands pets and scratches. She's also great with older children that are gentle with their feline friends.
Zara needs to be in a home with a social kitty that will be her buddy and snuggle and play with her OR in a home where her person is home most of the day so she can seek them out whenever she's feeling lonely.