Learn a little more about your new best friend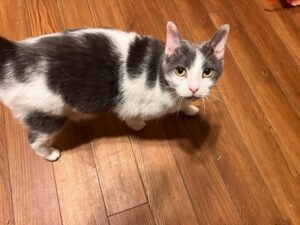 Hi I'm Suzy! I am very sweet affectionate kitty. You'll never feel alone with me around! I'm not needy but I do love attention. I have a bf at my foster home. His name is Linus and he takes good care of his gf (ME!). I get lots of snuggles and kisses. We don't have to be adopted together, but it sure would make my day! Our rescue will even discount the second adoption fee by 50%!
Suzy does have Feline Leukemia (FeLV) but is showing no symptoms. Because she is FeLV positive, she needs a home with another positive kitty (Linus?!) or one kept up on FeLV vaccinations. She would also be perfectly happy as a solo kitty, spoiled rotten. She is a healthy, adorable kitty with no current issues, looking for a forever home that's as loving as she is. Is it yours?