Learn a little more about your new best friend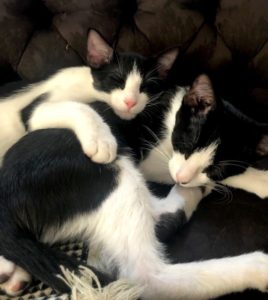 Meet Loki and Luca, the cutest, snuggliest wonder-twins you'll ever meet! These two sweeties just want to love and be loved – they'll sleep on your pillow or under your chin at night, and keep you company while you while you watch TV or work from home.
They play as hard as they love, too! These two babies are always up for chasing springs, wine corks, and wand toys – anything can be a toy to them! They'll even bring their springs to you, so all you have to do is throw and watch them fetch!
Loki and Luca are curious, high-energy little rascals, and these best friends are in search of the perfect human(s) to give headbutts to, and love unconditionally, forever. You'll be thick as thieves with these little sweeties, who will keep you warm and entertained all quarantine long, and through long Chicago winters to come!