Learn a little more about your new best friend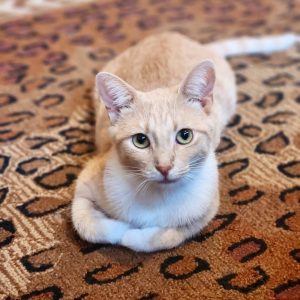 Jasmine is the sweetest little kitty who loves to play and be pet! She is inquisitive about everything but very polite…she investigates new things with a gentle poke of the paw, and will even poke you gently to ask for pets when she can! Although she's a little shy at first, once she warms up she LOVES to play. She plays fetch, goalie or hockey with hair ties and will even play by herself if no one is available to throw a toy! She also has a BIG meow for her little kitty body and it comes out when food is involved. She's petite and soft like a kitten and has the same curiosity and joy as if she never grew up! She is quirky and very lovable, and would love a home with someone to play with her.
Jasmine would also thrive in a home with another calm kitty who can show her the ropes and cuddle with her. If you want an adorable bundle of curiosity and joy and are willing to bring out her personality by playing with her, she's your girl!