Learn a little more about your new best friend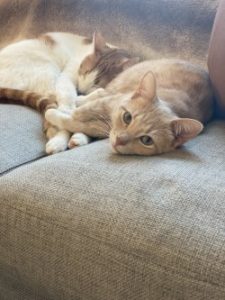 Jasmine is the sweetest little kitty who loves to play and be pet! She is inquisitive about everything and will investigate new things with a gentle poke of the paw. She'll even tap you gently to ask for attention! The way to her heart is definitely through play! She plays fetch, goalie, and hockey but is happy to play by herself if no one is available to throw her a toy. She LOVES her morning pets, and will snuggle at your feet in bed until you wake up.
Jasmine would do great as a solo kitty or with another cat to snuggle her and show her the ropes in her new home, but loud, fast, little kids might be too much for her. She's been waiting for so long. We know if you give her a chance you'll absolutely fall in love!