Learn a little more about your new best friend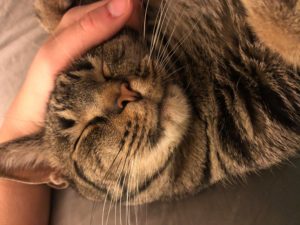 Here's the low down Herbie aka Herbie Murphy aka Herbs aka Herbalicious.
He loves to be pet and his favorite are the BELLY RUBS! He will roll over specifically for you to rub his belly. He also loves food! So no free feeding no matter how much he tries to bribe you with his snuggles. Side note – hangry isn't only a people thing.
Herbs is sooooo easy to hold! You can walk around the house with him and he just chills in your arms. His foster mom says it's by far her favorite thing about him! He just melts in your arms, purring his little heart out. And she just gives him kisses and he loves every bit of it.
Herbie is very independent. He doesn't cry for attention, but his foster family says that when they are sleeping he's either in bed with them or in the vicinity. He's near them at night even if it's right outside the room. He's definitely around at feeding time. He will attach to your leg even while your walking … you have been warned! Lol.
He plays rough with other cats. He likes to play tag and roll around wrestling, so another feisty cat would probably be the best for so they can play hard together. Herbie is a little skittish at first and it will take him a while to adjust, but he is so worth it!