Learn a little more about your new best friend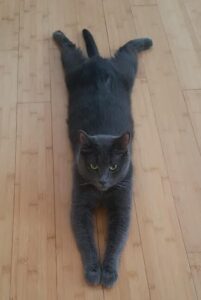 Meet Sir Grayson: sleek, mysterious, and noble! He is a true Russian Blue mix beauty! He loves cuddling with or running around with his foster brothers. He will come to his people and trill a meow to get some treats and make biscuits while waiting for you to fulfill his request. He is very low-key, but shy, and will come to you when he decides it's time for some royal treatment consisting of pets and treats.
He also loves to lay as if he's a baseball player sliding into home base, with his back paws splayed out, and watch intently what you're doing.
Grayson needs a quiet home with at least one cat-social cat and no young children in the home.